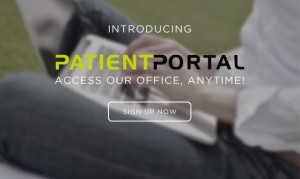 NOW AVAILABLE!!!!
We are happy to announce a new feature to our patients! You are now able to not only pay your bill online, but you may request an appointment, view/send/recieve images and various forms, review newsletters, and create a personal memo service to send reminders.
We know you are busy and can't always contact us during office hours. You can now access our front desk team using Patient Portal-anytime, anywhere.

To Register, simply click the link above to go to the website, then click the "Sign Up Now" button.  Enter the information that it requests (make sure that it matches what our records have as well) and choose a username and password.  Also, our office can provide you with temporary login information, so please call if you would prefer this method.

It's as easy as that!

Share Page